San Antonio Travel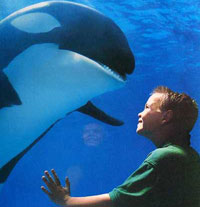 San Antonio, home of the world famous River Walk and the Alamo, has an air about it that cannot be described. Perhaps the most unique city in the south, San Antonio will wow you with its culture and charm. Known world wide for the Alamo, you will immerse yourself in the most famous spot in Texas, where 189 defenders fell after repeated attacks by Mexican General Santa Anna's army in 1836. Located in the heart of the city, the Alamo houses a museum and library where you can truly get a glimpse of what happened during that fateful time.
But San Antonio blends this culture from the early 1800s with the excitement of today. The River Walk offers tons of shopping and dining, and SeaWorld San Antonio and Six Flags Fiesta Texas bring you some of the most modern attractions and roller coasters in the state! From history to modern convenience, to everything in between, San Antonio has it all — fun, education, and excitement — who could want anything more?
Some of the top attractions and locations you can visit when booking a San Antonio student travel trip include:
• Alamo
• SeaWorld
• Tower of Americas
• Riverwalk
• Buckhorn & Texas Rangers Museum
• Six Flags Fiesta Texas
• Ripley's Believe it or Not
• Schliterbahn Water Park
• Hard Rock

Contact Straight A Tours to find out what student travel packages in San Antonio are available.